Decoration and Design Melbourne, Wrap Up
I was so lucky to get the time to attend Design and Decoration last week and to be able to go on a lovely road trip with my family to do it!  Melbourne put on 25 degrees to gale force winds, driving rain, thunder and snow during the event!
First up I have to say it was ENORMOUS! I went there all eager beaver and attended the first seminar with Lori Weitzner which you can read about here at my post day post. 🙂  I then headed down to the exhibition halls to interior design and decoration heaven!
Suffice to say after an hour, when it was time to go back up to the next seminar speaker, I had only walked through about 25% of exhibitors! After lunch I headed through again and then went back for speaker 3. I peered into the depths of the hall and realised I was only half way through!! It was a busy last few hours. So much to see and just not enough time to see it all. I have shared some bits and pieces but here is my wrap up from this great event. I think next time, I will take a couple of days!
Armadillo and Co say that collaboration is their inspiration. They work intently with each other, their artisans and clients. They " follow our instincts, get excited and combine thinking to let ideas unfold, expand and evolve."
These ideas come from little things. Perhaps a shadow, a tile, a piece of folded paper. To big themes, like travel, memories and family.
They work closely with their artisans and say "Yes, we do get all goose-bumpy when we're crouched down on the floor for a month in India with our makers (which we do regularly!). We adore our 'dye master'. We know our weavers' families. And we always keep it real when it comes to production."
These are some seriously gorgeous rugs! They have a fair trade policy and a range of eco friendly rugs. They also have a designer range which is not accessible to the public but if you have an Interior Decorator or Designer working with you, they can have the rugs custom made in a range of colours and styles.
Dan Moderne is an emerging furniture design company established in 2008. The company designs, retails and distributes its own mid-century inspired pieces from their showroom in Brisbane, Queensland.  Drawing on a wealth of experience and knowledge gathered during many years of collecting, restoring and retailing Danish and Australian made vintage pieces, the dedicated team are now channelling their passion into Dan Moderne. Testament to this, the furniture is of the highest quality workmanship and retains the integrity that is important to modern design.
It was really beautiful work. Here are some samples!
I featured these guys on the blog in the lead up to the event and it was so lovely to meet them and see them take out the Green Award at VIVID!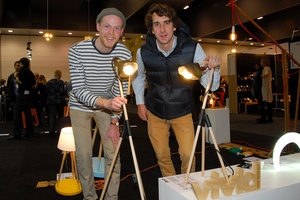 Here he is in the flesh 🙂 I asked about the name and apparently they were mucking around one day talking about the Dow Jones and came up with the name from there! I hear he may have a Mrs Jones on the horizon! It is a really lovely design.
I also featured these guys here in the lead up and it was lovely to meet them also and see and touch the products. They are made from the plastic bottles you see below! And they look and feel fantastic.
Tufts is a small studio producing a range of handmade ceramic tableware and homewares in Melbourne, Australia. They also create bespoke cafe ware and collaborate with other artists to create stunning pieces.
I spoke with a number of emerging and new designers about their beautiful designs and will be featuring them individually over coming weeks so stay tuned. But it was wonderful to see all of the talent we have here in Australia. Here are some selections and also some people who I will hook up with soon for more pics!
There were plenty more lovely people I connected with but many wanted to send quality images (better than my little camera could manage!) and follow up later. I enjoyed chatting with the girls from Ink and Spindle, Thea and Sami, Walter-G and Linen and Moore. More to follow! But for now, that's a wrap. 🙂
Helen