Upcycled Truck Beds, Tractor Kitchens & Dr Pepper Cooler Bars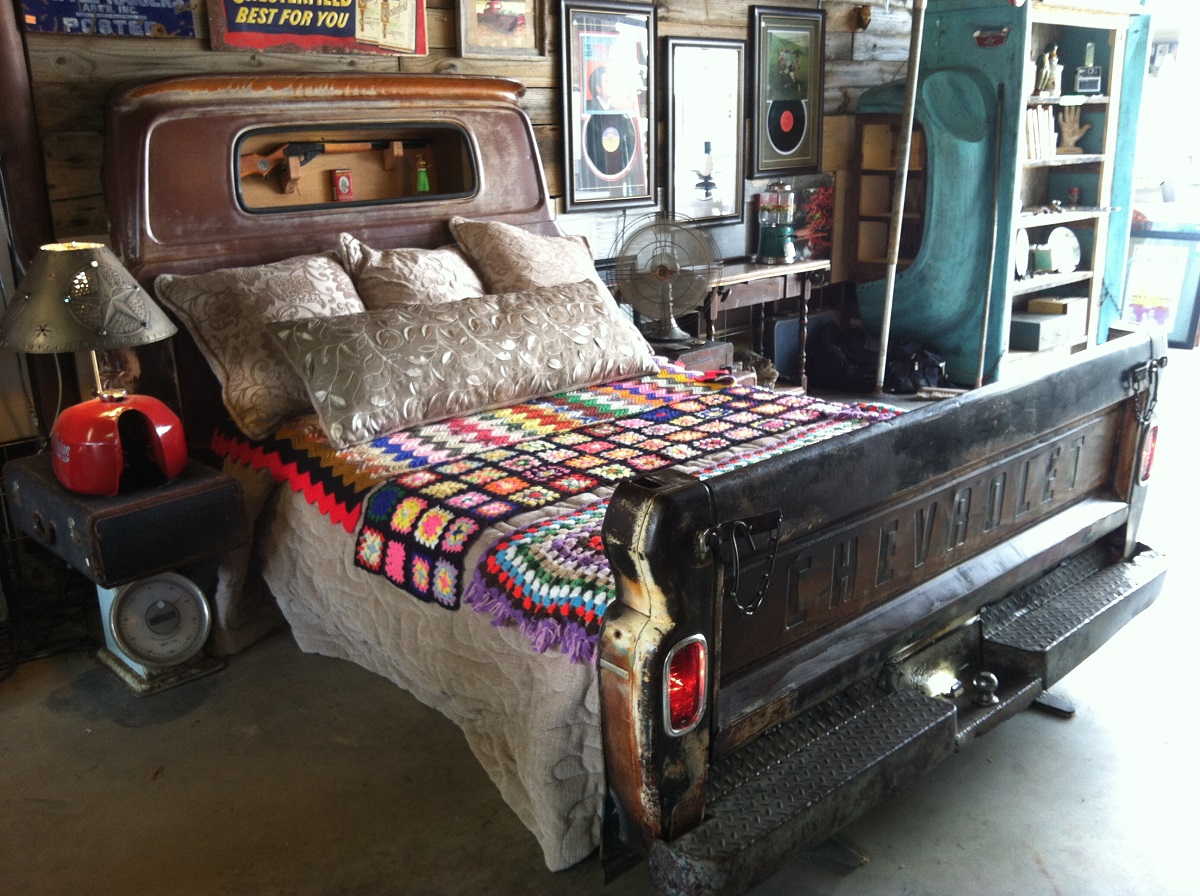 Perry Hudson from Custom WoodworX Designs, has a talent for truckin' – not driving trucks, but taking an old beaten up truck and appreciating its merits. With a keen upcycling eye, he turns rusty old trucks into beds. Along with this, he can pretty much reinvent any object, and chooses beautiful and timeless pieces, to create his masterpieces. Perry says that ever since he started building these truck beds, he wanted them to look like the ones he remembers going down the road as a kid. "In one, I built a cabinet that goes in the rear window with a gun rack. Later on I started putting a mirrors in as well, to give depth and put off more light reflection from the dome reading light. The tailgates are functional and there's a faux dual exhaust. The bed rails bolt right up to head and footboard, for queen or king. Last but not least, the LED lights can be operated by either a manual dimmer switch, or a wireless key fob on a novelty key chain – which is a detail customers love".

When Perry first started Custom WoodworX around 2012, he was doing mostly woodwork. Now, he has extended his range to include a vast array of cleverly upcycled pieces. Located in East Mountain, Texas, a small town of just 758 people, just north of Longview, Tx. ( East Texas), he has a range of skills including painting houses, creative renovations, antique restorations, repurposing and upcycling. He had early training and experience with wood, which later evolved into his metal work. He has also worked with stone, glass, ceramics and fibreglass (he says he loves variety!).  Perry went full time with the business in 2012, and describes himself as a dad, a dreamer, a conservationist, an inventor, farmer, artist, fabricator, woodworker, photographer, and chef. "I believe there's too much waste in the world – too many disposable things", he says. His favourite art is folk art – "it's raw, grass roots and to me is born of a more rural innocence".

Perry says he has always had a "natural born" creative, expressive influence and inspiration in his life. "I feel it is almost genetic, coming from a diverse family of artists, farmers and mechanics. I noticed my grandparents repurposing things from young age. Most people that lived back then, especially through the Great Depression, would not throw stuff away that could be re-used or repurposed. Just look at what people do in 3rd world countries now. Necessity can bring about some ingenious things and ideas. Some old relics have an element of mystery, they make you think about what past life they might have lived through. I feel inspired to bring things back from ruin, with a new or even more useful purpose than they might originally have had".

Perry's favourite materials to work with started out as being wood. "I was taught many good tricks of the trade by a dear friend and master woodworker. I was encouraged to think outside of the box, but later was asked to please go back in the box! Going to some junk yards and antique car swap meets began a new chapter in repurposing, and I started to really get attention. Combining woodwork and metal in the right way, along with special attention to small creative details, really resulted in some very cool projects. The list of things people say about my work could be a page long. Honestly, if it stops them, if they have to grab someone with them and show them a piece, if they smile and their eyes light up and look it over for 5 minutes or even longer – I believe I did my job".
Perry's favourite works to date would be a Ford 8N tractor patio set and a 56 Chevy truck bar. "The Ford Tractor Patio set is what I call Functional Folk Art – it's cool to look at, fun, and very useful. I made the hood and grill of the tractor into a rolling party cart with built in drink cooler, storage crate and wine bottle rack, and also built in a battery pack to turn the headlights on. The chairs that go with the set were made using the fenders for the back rest and tractor seats. The frame for the chairs was modelled after old spring steel patio chairs from the 1940's. My 'on the fly' engineering resulted in a well balanced chair that was very comfortable and had a nice bounce to it".

"The 56 Chevy truck bar was built for Tony Aquila's office of Solera Inc. in Ft. Worth Texas. Over 250 hours of work into this project created a so called "rally point" in his office, that made it into an editorial of INC. Magazine of New York, about the 'Coolest CEO Offices' in November 2016.  Special details in this project, such as water jetting the radiator into a wine bottle rack, and the liquid epoxy bar top with bottle caps, fishing lures and a real rattle snake rattle, were just a few things that made it one of a kind and unique".

56 Chevy truck bar


This Datsun has been turned into a full size kid's bed by Perry. The other trucks were so big and not everyone has room, so he thought he would try a mini truck. It's a 1974 Datsun that was abandoned in the pasture of one of his neighbour's land. Along with trucks, Perry uses a range of industrial pieces to create homewares and furniture, like these lamps made from old firefighter memorabilia; and garden sculptures made with old pitching horseshoes, various garden tools, cotton scale parts, old post hole diggers, and even old motorcycle gas tanks!

Perry started collecting old antique Coca Cola and Dr. Pepper soda coolers right out of high school. "Those were some of my first restorations, which I eventually got bored with! These were some of my first repurposing/upcycle projects. I noticed that often people who had one ended up not really using it, or it would end up being a junk collector. When I started turning them into kitchen islands or bars, people not only lit up at their nostalgic wow factor, but also thoroughly appreciated the newly designed functionality of the pieces. Perry found this 1937 Dr Pepper Cooler at the scrap yard. "I had to find the sign that goes on the front, the cap catcher and bottle opener. These were then repurposed into this bar. The people who bought it had a ranch close to Waco, Tx. This is considered the birthplace of Dr. Pepper. Sometimes the items find their way back to where they're supposed to be!".


This custom built bar was repurposed out of old Coca Cola coolers and a whiskey barrel.

1930's Dr Pepper cooler repurposed into kitchen island/bar. It was custom made for a customer who was in the gold and silver coin business, and the coins in the top were mostly counterfeit, collected over the years!

Tractors also get a new life, with a variety of projects. Perry transformed this vintage Ferguson tractor by repurposing it into a very cool bar table.

1950 Ford truck which was repurposed into a bed for customers in California

Last but not least, Perry says that he has found in life that sometimes a delay or what appears to be a set back, can actually be a blessing for a new, or even better idea than what you originally planned. It is all about slowing down, taking time to create and make mistakes, you never know where it will lead you. It looks like for Perry, there are no barriers to what you can create in your life. Look at things from a different perspective and take on some of his out of the box thinking. See the potential beauty in things – there is no such thing as "away". When large items like tractors and trucks are no longer needed, there is a huge amount of materials to deal with – why not create a unique piece for your home? You can see more of Perry's amazing work on his website here, and follow him on social media for all of the inspiration. If you are lucky enough to live close by, why not ask him to create a special piece for your home.
Helen